Super FMT Mortise & Tenon Jig
The Super FMT is no longer in production or available directly from Leigh.
Select authorized dealers may have stock. Please contact Customer Service at 1800-663-8932
The Super FMT Does It All
With the Super FMT and a plunge router, any woodworker can easily produce the incredibly strong and versatile mortise & tenon joint with amazing speed and accuracy. The Super FMT's design is based on the original and incomparable FMT. The same great features produce the same great joints.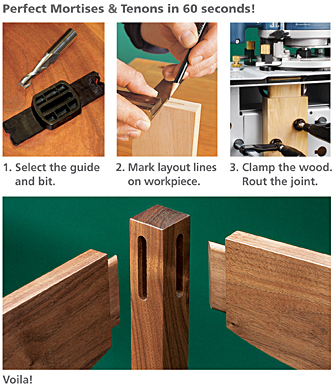 The Super FMT uses just one bit, one guide and one setup for every standard joint. It's that easy. There are no bit or guide changes to fuss with and the setup stays the same for both parts of the joint. Joint fit is easily adjusted for perfect results every time. Super FMT guides and bits allow you to create any size mortise & tenon from a tiny 1/16" x 1/8" to a massive 1/2" x 5". 
Click here to learn more about Guides and Bits.
Infinite Joint Fit Adjustment
Joint fit is easily adjusted with the left hand guide pin. Simply turn the pin up for a looser joint and down for a tighter joint.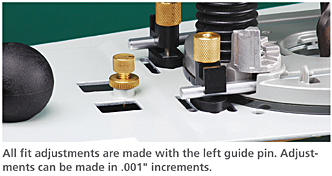 Whether you are routing a 90º joint, a simple angle or a compound angle, the Super FMT does it all with ease. Chair building is very demanding and exacting and the Super FMT makes easy work of the compound angle joints found in many chair designs.
Multiple clamp positioning holes allow clamping of the workpiece at any angle in any position.

Quick and Convenient Sighting
The removable joint aligning sight makes sighting simple, easy and accurate!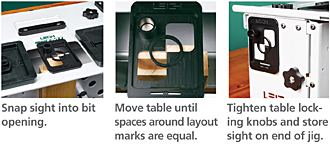 Mortise & tenon joints routed on the Super FMT are immensely strong and virtually indestructible. This centuries-old joint is the thoroughbred of all woodworking joints and is used in fine furniture and cabinet making everywhere. See how easily you can make tables, chairs, chests, cabinets and stunning pieces like the rail and style bedside table below.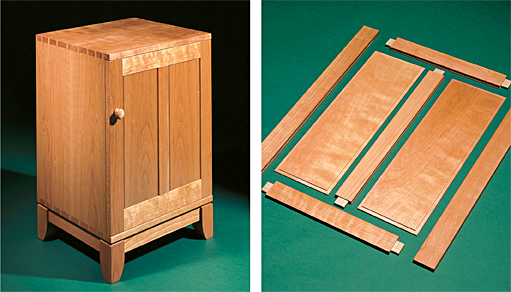 Learn More!
Note that the following links may feature earlier model jigs,
but the information still applies to the latest models.
Over 70 sizes of mortises & tenons

21 joint guides: 1/4"set, 3/8"set and 1/2"set, (5/16" included with jig)

6 specialty guides: 4 square tenon guides, louver guide set, Y-axis mortise guide

Max. 1/2" x 5" joint size

Clamp boards up to 3" thick by 5 1/2" wide

Single, double (tandem and side-by-side, triple and quadruple joints

Recordable, repeatable joint fit adjustment

Angled and compound angled joints

Works with virtually any plunge router

Heavy gauge rugged steel frame

Multi-position clamping

Easy and precise joint sighting
Universal sub-base that attaches to virtually any plunge router

Five 5/16" joint guides (5/16" by 1/2", 3/4", 1", 1-1/4" and 1-1/2"), which can make over 21 sizes of mortises and tenons

Joint guide stand

5/16" HSS spiral upcut bit w/1/2" shank (Leigh No. 170-500)

Two F-Clamps

Adjustable sidestop fence for tenoning

1/8" hex driver

Mounting hardware

Illustrated user guide