How-To Videos & Instruction
Small and Miniature Joints on the FMT Pro
Small and even miniature joints are easy, using a shop-made holder. The FMT Pro can rout joints not only smaller than 1/4″ (6mm) but so tiny they're almost beyond belief — all with the same setup and adjustable fit you expect in larger joints. These examples of miniature joints show the extreme versatility of the FMT Pro.
And if you're wondering how pieces such as the matches, miniature table parts and some of the curved workpieces are held in place, here's how: There are twelve through holes in the clamp plate with which shop-made auxiliary plywood plates, blocks, and work-holding fixtures can be attached and used together with the Leigh cam clamps. It's all in the step-by-step FMT Pro Leigh User Guide.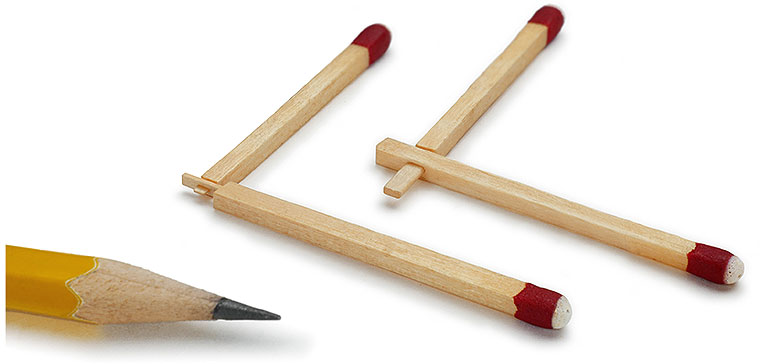 The matchsticks feature mortise & tenon joint sizes of .040″ x .095″ and .013″ x .053″! The smallest mortise & tenon was routed with 1/64″ (0.4mm) mortise and 31/64″ (12.3mm) tenon machine tool bits. These matchstick joints actually creak when assembling!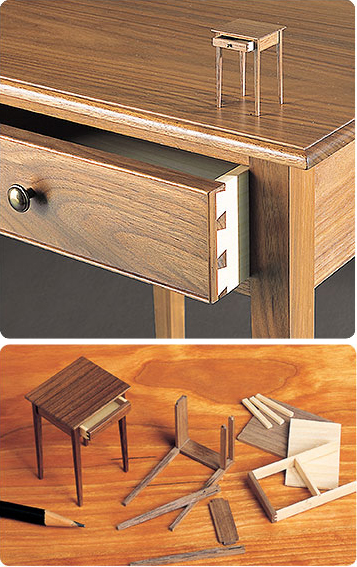 Twelfth-scale miniature replica of a night table in walnut and poplar. Miniatures such as doll house architecture and furniture all call for mortises and tenons as narrow as 1/8" (3.2mm) or less.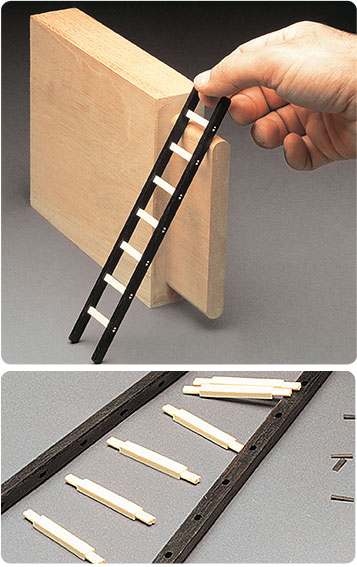 This 7-1/2" (190.5mm) ebony and holly ladder leaning against a 1/2"x 5" (12 x 127 mm) tenon has ebony wedged tenons 1/16" x 1/8" (1.59 x 3 mm).
The same technique used for production joints (two bit combination) also lets you rout joints much smaller than the FMT Pro's smallest 1/4″ (6mm) joint guides. A larger bit is used for the tenon, and the mortise is always routed with a bit the same diameter as the mortise. See the following example of 1/8″ (3mm) joints using this technique. The Guide and Bit Selection charts on the Accessories page show how different bit combinations can crank out extraordinarily small joints just as quickly and precisely as larger ones.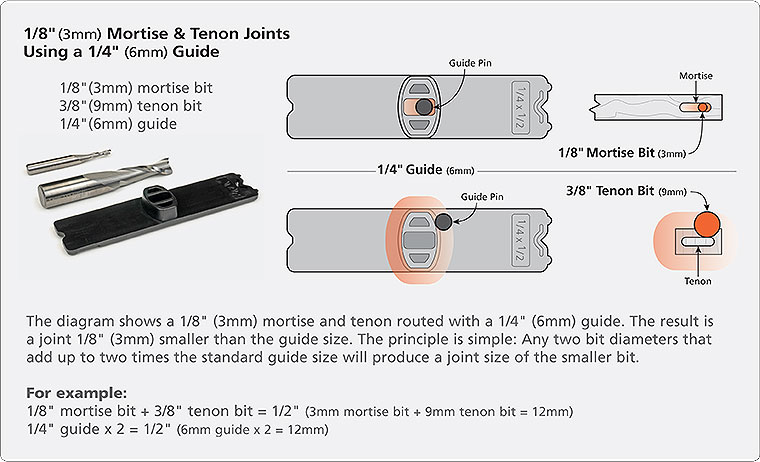 For more detailed instructions, see the User Guides and Bulletins on the Support page.