Reviews and
Customer Comments
Leigh VRS1200 Vacuum & Router Support for Porter-Cable 4200 Series Dovetail Jigs

"This thing sucks! Literally. This thing sucks up almost all the wood dust…"
See more Reviews and Customer Comments at our Dealer's sites!
Great Buy
"This was a great buy, it really does collect 99%of the cast off wood chips from dovetail routing…"
– Lew
An Excellent Add-On
"An excellent add-on that collects 90% of dust and provides needed table-like support for the router.."
– Richard B
Easy Cleanup
"After years and years of long cleanups after dovetailing with my Porter Cable jig, it's great to see that this dreaded chore is finally a thing of the past. I congratulate your organization for the innovative design and quality construction you have brought to the woodworking marketplace with the adaptation of your VRS jig to the Porter Cable jig. Already have gotten and installed one and looking forward to making some cleanup free dovetails soon. Great Job! PS – Thanks for directing me to the installation video. Made the installation easy."
– Frank, Miramar FL
This thing sucks!
"Literally. This thing sucks up almost all the wood dust… it's a huge improvement."
– Thomas G
Eliminated the Chips and Dust
"I ordered the VRS1200 the day it was officially announced. The owner of my local Woodcraft had told me it was in the works several months earlier, so I had been watching for it. I was amazed at how well it worked the first time I cut dovetails with it attached to the jig. I always had to wear a shop apron and sweep up the chips and dust between boards in the past. Using the VRS1200 with a standard Shop-Vac almost completely eliminated the chips and dust. It was wonderful!"
– Scott
Added Benefits
"I hated making box joints because of all the saw dust. I took a chance and bought the VRS1200. Now very little saw dust is falling on the floor. It just works great! Easy to install and adjust. The added benefit is it holds the router between cuts."
– Dave
Well worth the purchase
"I used my VRS1200 for the first time a week ago. The amount of mess I did not have to clean up made the purchase well worth it."
– Eric
Completely Clean Dovetailing
"This thing makes operating your Porter Cable Dovetail Jig a completely clean operation. It literally sucks up every piece of dust. I cannot imagine using my jig without this attached now…"
– AK
Porter-Cable is a registered trademark of Stanley Black & Decker USA
I won't use any Leigh jig without the VRS!
(See end of article) by Tom Hintz NewWoodworker.com
READ REVIEW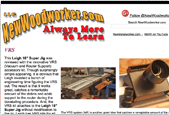 Customer Comments
"Leigh VRS — "A must have for the Leigh Dovetail Jig""
Great Addition
The cloud of dust and chips that used to be all over my arms and chest now goes into my Festool Dust Extractor out of the bottom port of the Leigh VSR. In addition to an almost dust free environment I like the clever design by Leigh that lets you adjust the VRS body on the same plane as your dovetail guide fingers for additional router support. I found that even though Leigh provides adapters to connect to a different size vacuum hoses, the largest hose is necessary to keep chips from clogging up the port. I switched out my 27mm hose for a 36mm hose to eliminate all chip flow restrictions. The VRS offers an upgrade to an already great dovetail jig and working in an almost dust free environment is worth the cost.
— Jacko9, Amazon Review
Leigh Jig Essential
kind of kicked myself in hindsight. I came close to breaking my tool (toy) budget buying the Leigh D4R pro jig and thought I'd save a few bucks by not buying the more expensive VRS included "kit" package. It only took a few days of using the jig and reading reviews to see that the VRS is close to an "essential" if you are going to use the Leigh jig. It provides essential support for your router, particularly if you are using a larger, heavier router. Even with the mid sized routers it gives you a bit of safety factor allowing you to let your router spin down while you move it to a position where you can see if you've cleared all the wood between the pins/tails. An added bonus is that it catches about 90-95% of the dust/chips from the routing process if you hook the VRS to a shop vac or dust system. Without the VRS/shopvac combo expect both yourself and your shop to be covered with chips and dust as the jig works best when used about mid chest level, an ideal height for optimal distribution of the waste products. Those of you that may have one of those routers with a dust system will
find that the router attached systems will probably be a hindrance with the jig....not so with the VRS. I was worried a bit when I opened the package seeing the magnetic attachment and what on first view seemed a less than substantial sliding dust collection apprentice. But, after a few weeks use it appears to be working very well and the very strong magnetic attachment is more than adequate. I would highly recommend anyone who is willing to stretch his/her tool budget buying the Leigh dovetail jig to include the VRS in the process.
— B Gates, Amazon Review
A must have for the Leigh Dovetail Jig
Great quality product that is an essential add-on to the Leigh dovetail jig. I have the 24" D4R system and while routing one day, I managed to gouge a chunk of metal out of my dovetail finger guide. It only happened because the router wobbled a bit due to lack of support. This device provides that support and makes the system much safer and more reliable. Sure the dust collection capability it provides is great too, but the support was the big selling point for me. You need this if you have the Leigh system. — Van Hut, Amazon Review
Surprised at its performance
This really does work well!! Works better than advertised. Picks up at least 95% of chips normally thrown against chest when routing. A real value and much better pickup than anticipated. Used with Rigid vac and Festool hose. Magnetic on/off mounting for setups etc.
— Auburn Tiger, Amazon Review