Cleaner and Easier Routing with the VRS1200 Vacuum & Router Support
The patented Leigh VRS1200 Vacuum & Router Support is the ultimate dust collector and full width router support for your Porter-Cable 4200 Series Dovetail Jig.
A Clean Workspace at Last!
Keep harmful dust out of the air, and you and your workspace clean. The VRS1200 Vacuum and Router Support fits the Porter-Cable 4210, Porter-Cable 4212 and Porter-Cable 4216,
Benefits of a Router Support
A tipping router can affect the accuracy of the joint. The router support ensures the router base stays perfectly flat.

The router support reduces the risk of the router falling. When finished routing, simply slide the router away from the joint
and park it. Workpieces can be changed without having to remove the VRS1200.

The one-time setup takes only 15 minutes! The setup guide and online video instructions make installation quick and easy. No jig modifications or tools required. Simply install the VRS1200 support brackets, level the beam with the template, attach the vacuum hose, and you're done.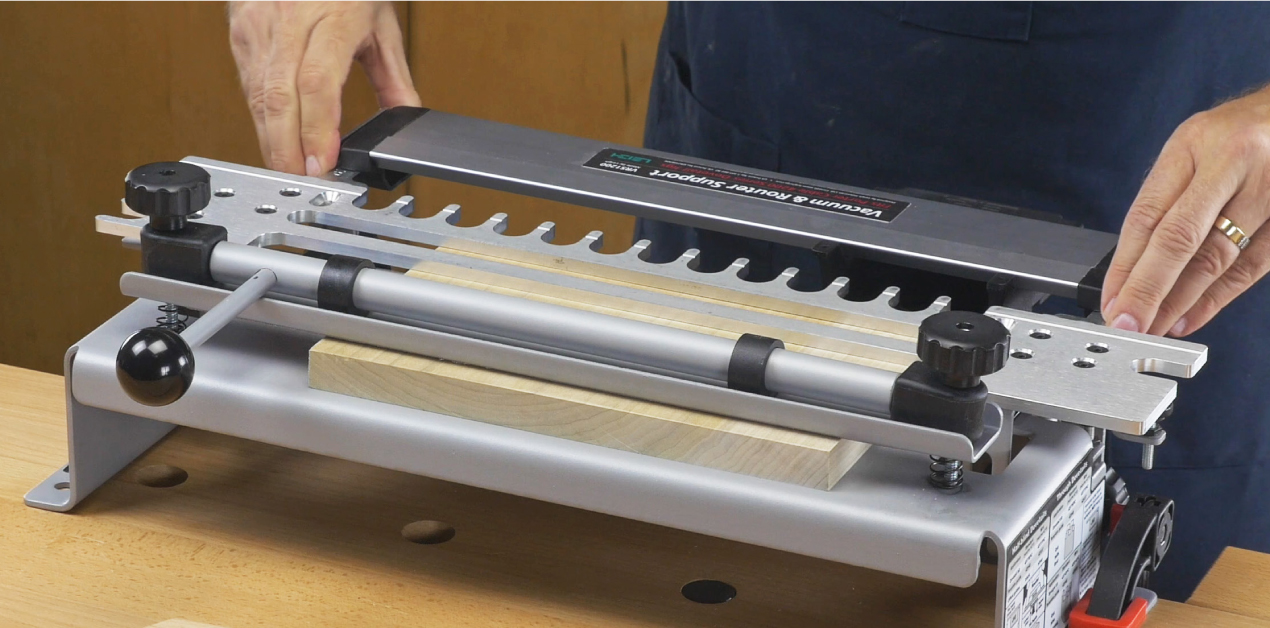 After the initial setup, the VRS1200 attaches to your jig in seconds. Internal tension springs hold the beam securely in place while routing.
The router is positioned over the vacuum box between the two sliding vacuum box tabs (shown in red for clarity).
As you move the router sideways, the guide bushing mounted in the router base touches one of the vacuum box tabs (shown in red for clarity), and moves the vacuum box effortlessly across the beam, always keeping it positioned for maximum chip and dust collection. The vacuum box automatically follows the router when routing or when parking the router off to the side.
When routing, the vacuum box slides effortlessly across the full width of the beam and Porter Cable 4200 dovetail jig template.
Innovative Dust Collection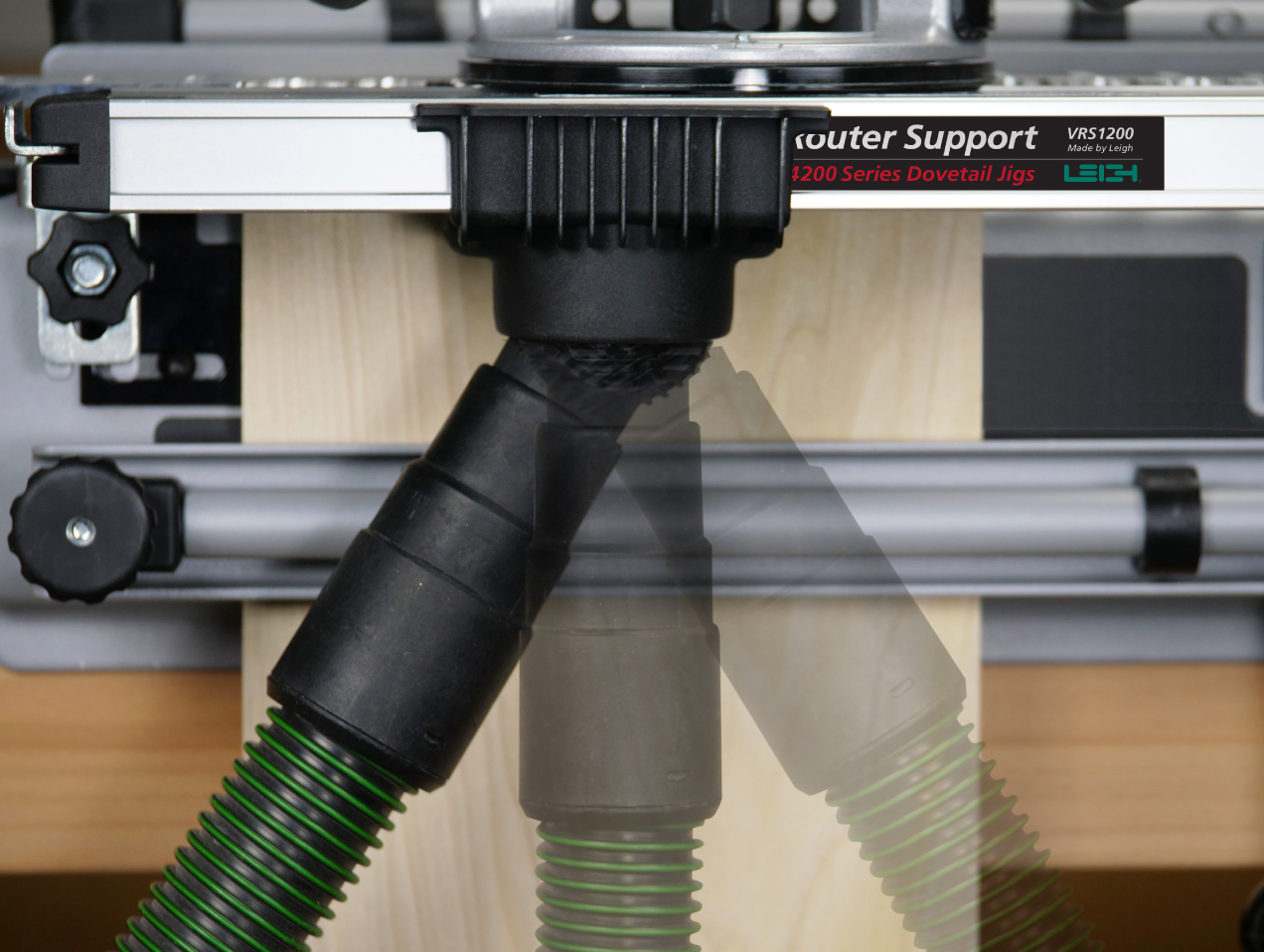 As the vacuum box moves across the beam, the hose attachment swivels, allowing it to slide effortlessly. The vacuum box and hose stay underneath the beam, out of the operator's way.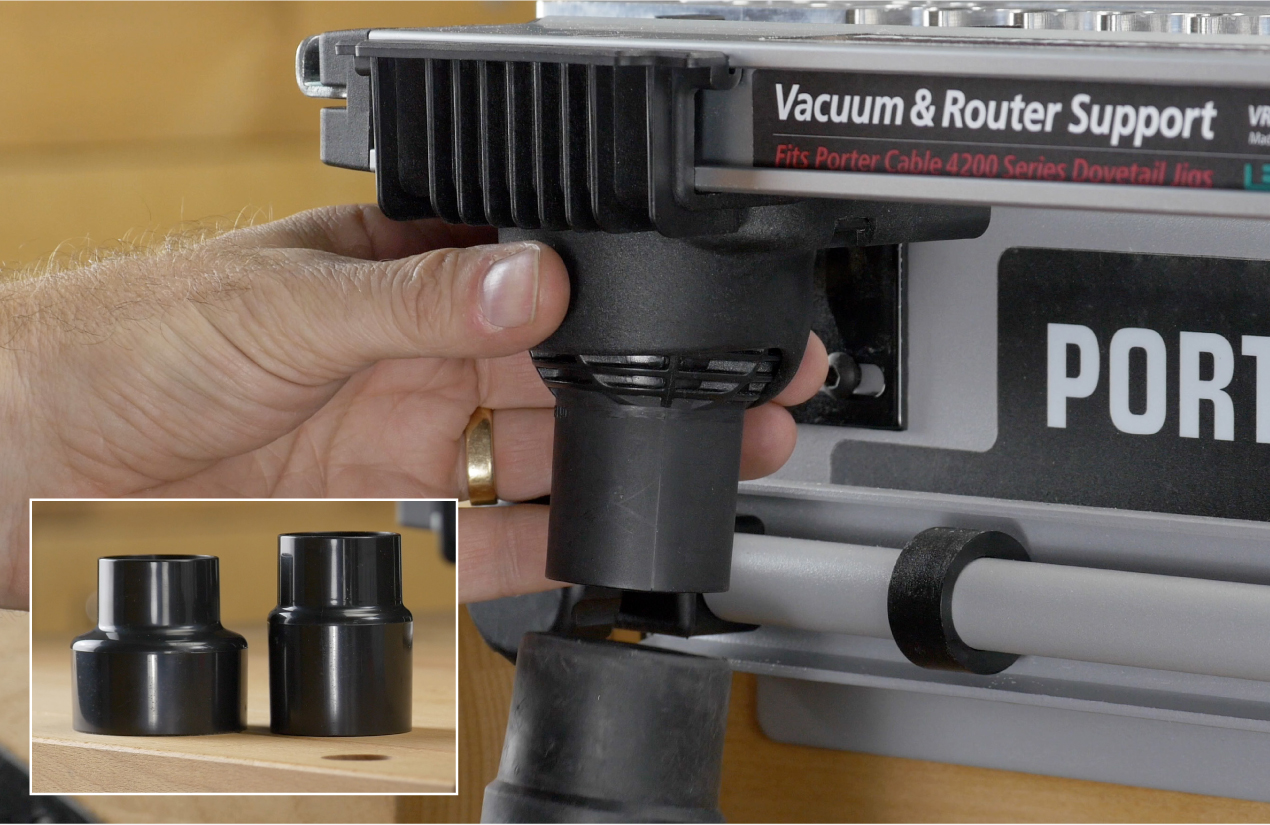 The VRS1200 vacuum port accepts a 1½" hose and the kit includes two adaptors to fit 2″ and 2½" vacuum hose sizes. It can be used with a small shop vac or large built-in system. Festool 27mm hoses require an additional adaptor. Contact Leigh customer service.
Easy Step-by-Step Instructions
The VRS1200 comes with a fully illustrated setup guide. An online video is available for those who prefer to see it in action. Leigh also offers excellent customer service, with toll-free technical support and a help line.
Technical Specifications
IMPORTANT
Works with 4210, 4212 and 4216 Porter-Cable dovetail jigs
Router support width: 16-1/2" (419mm)
Router and Dovetail Jig not included
IN THE BOX
The VRS1200 includes:
Router support beam with vacuum box
Left and right support brackets
Hex key
Two knobs
Two vacuum hose adaptors: 2" and 2-1/2"
Fully illustrated setup guide
Porter-Cable is a registered trademark of Stanley Black & Decker USA