Bits for the RTJ400 Dovetail & Box Joint Jig
High Quality Bits
Leigh Brand carbide-tipped router bits are among the best you can buy. They are made with high quality C2 and C3 micro grain carbide for long bit life. Each bit is honed to a fine edge with 600 grit diamond wheels for smooth, efficient routing. All shanks are 1-3/4" long to handle the thickness of the finger assembly or accessory template. Leigh router bits are manufactured to ISO 9002 standards.

Shank Size
The RTJ400 is shipped with 1/2" shank bits designed to work with the e10 eBush. Optional 1/2", 8mm and 1/4" bits are available for additional sizes of through dovetails, half-blind dovetails and box joints. All 8mm shank bits require an 8mm collet or a 1/2" to 8mm collet reducer part 172-8.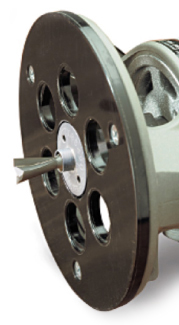 ---
Purchase the RTJ400 Accessory Kit and Save!
Scroll to the bottom for more details
---
---
Collet Reducer 172-8
One 1/2" to 8mm collet reducer 1 1/4" long. Required for all 8mm shank bits (70-8, 75-8, 80-8, 140-8, 170 and 170C).
Item no. 172-8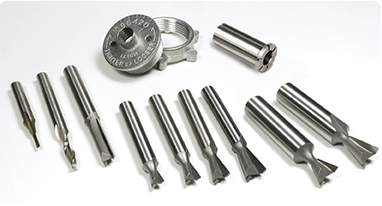 Accessory Kit - RTJ400
Best value when you buy the kit!
Includes 8° through dovetail bits 50-8(1/4"), 60-8(5/16"), 70-8(3/8") and 75-8(7/16"), straight bit 140-8, half-blind bits 112-500(12º) and 128-500(18º), box joint bits 163(3/32") and 166(3/16"), one e-Bush (e7) and one collet reducer 172-8 (1/2" to 8mm).
For use with the RTJ400
Item no. ACRTJ