Bits for the TD330 Through Dovetail Jig
High Quality Bits
Leigh Brand carbide-tipped router bits are among the best you can buy. They are made with high quality C2 and C3 micro grain carbide for long bit life. Each bit is honed to a fine edge with 600 grit diamond wheels for smooth, efficient routing. All shanks are 1-3/4" long to handle the thickness of the finger assembly or accessory template. Leigh router bits are manufactured to ISO 9002 standards.

Shank Size
The TD330 Through Dovetail Jig is shipped with a 1/2" 2-flute carbide tipped straight bit (Item VM160CH), and a 1/2" 8º carbide tipped 2-flute dovetail bit (Item 50-800CH). You may also use a 1/2" spiral upcut bit in high speed steel or solid carbide. (Items 180 & 180C)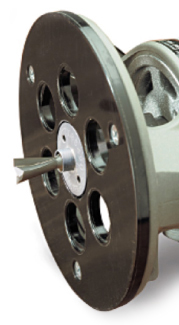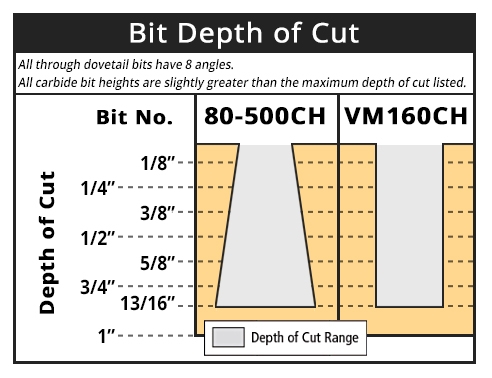 Bit Selection

Leigh Bits

A


Bit
Diameter

B


Max Cutting
Depth

C


Shank
Diameter

D


Shank
Length

E


Overall
Length

F


Angle
Use with
Collet
Use with
eBush
Price

VM160CH†* Carbide Tipped

1/2"
1"
1/2"
1-7/8"
3-1/8"
Straight
1/2"
e10*

VM80-500CH†* Carbide Tipped

1/2"
13/16"
1/2"
1-3/4"
2-3/4"
8°
1/2"
e10*
Optional Bits
1/2"
1-1/4"
1/2"
1-3/4"
3-1/2"
Straight
1/2"
e10*
1/2"
1 1/4"
1/2"
1 1/4"
3 1/2"
Straight
1/2"
e10*
* The e10 eBush and Bits VM160CH and VM80-500CH come included with the TD330.
† Bit VM160CH is equivalent to bit 160 & VM160IND.
† Bit VM80-500CH is equivalent to bit 80-500.
**Optional spiral bits rout cleaner & faster, leaving a smoother finish. Bits 180 and 180C are alternatives to the VM160CH.
Note: The Leigh TD330 Through Dovetail Jig requires a router with a 1/2" collet. Click here for the Adaptor Selector.