Superb Dovetail Jig Design
Variably Spaced Through & Half-Blind Dovetails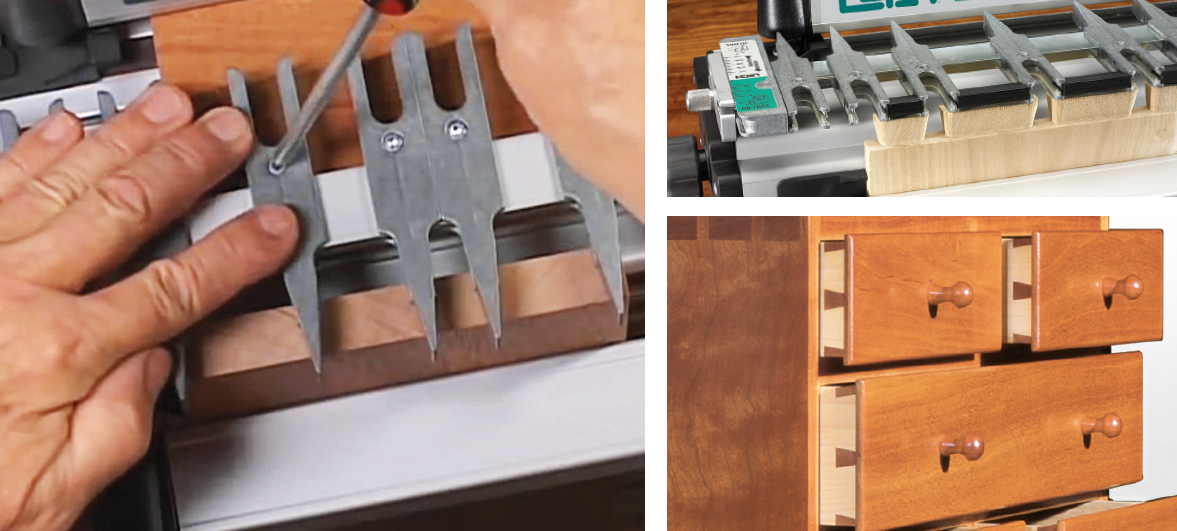 No other dovetails achieve that classic hand-cut look more than variably spaced dovetails. It all begins with the guide finger assembly, the heart of all Super Jigs. With unlimited pin and tail spacing, the finger assembly easily adjusts to fit your project, not your project having to fit the jig. The possibilities are endless.
Single Pass Half-Blind Dovetails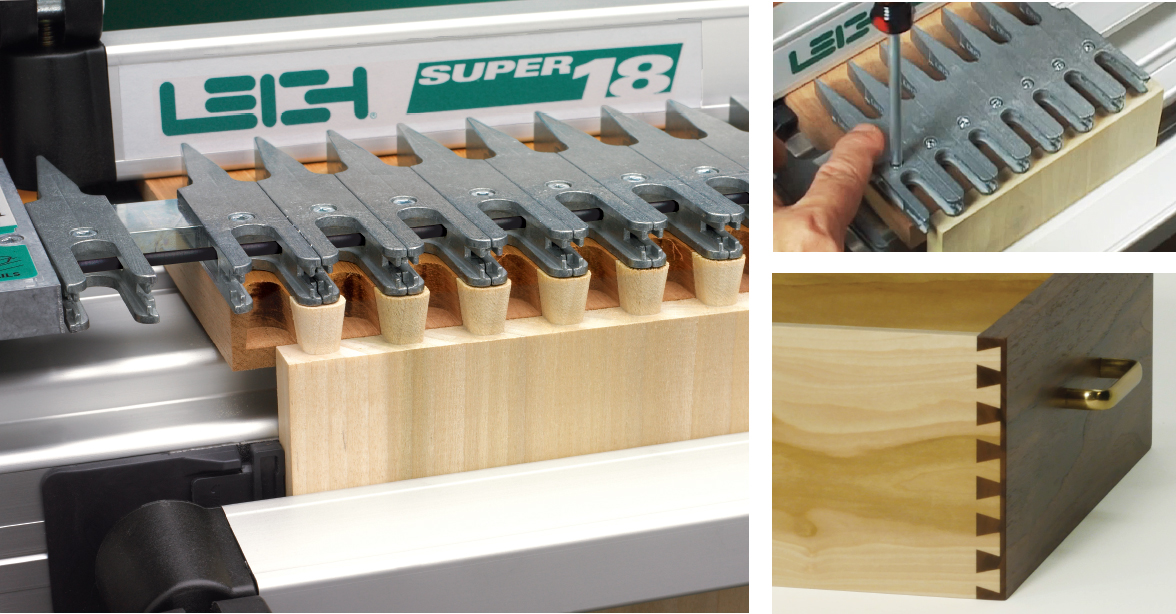 If you prefer the simplicity of equally spaced dovetails, with minimal setup you can rout both boards at the same time. Great for multi-drawer projects or for replicating period pieces.
Box Joints (Finger Joints)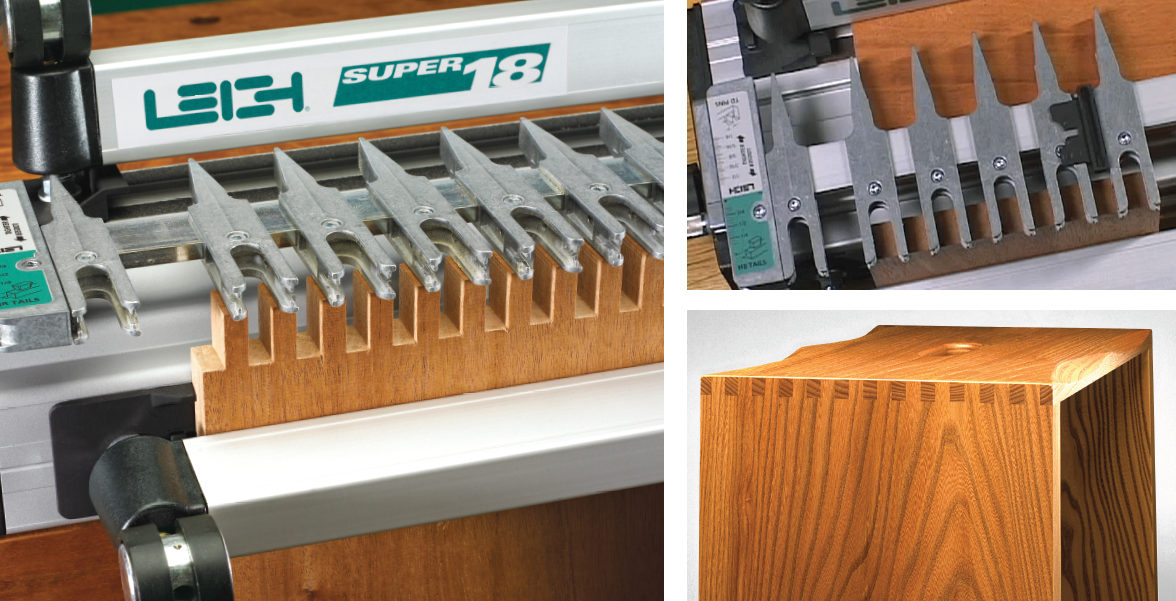 Box joints (finger joints) are known for their striking symmetry and strength. Two joint sizes, 5/16" and 5/8", can be made with the Super Jig guide finger assembly.
Join Boards of Different Thickness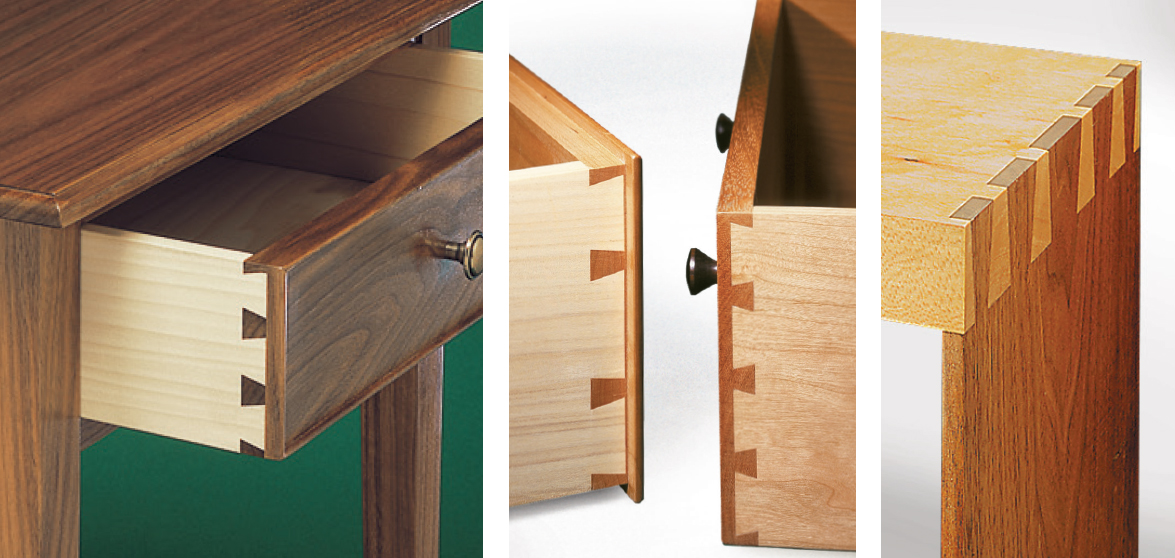 Pin and tail boards do not have to be the same thickness. For example, drawer fronts are often thicker than drawer sides.
Perfectly fitting joints are easy on Super Jigs with a simple adjustment.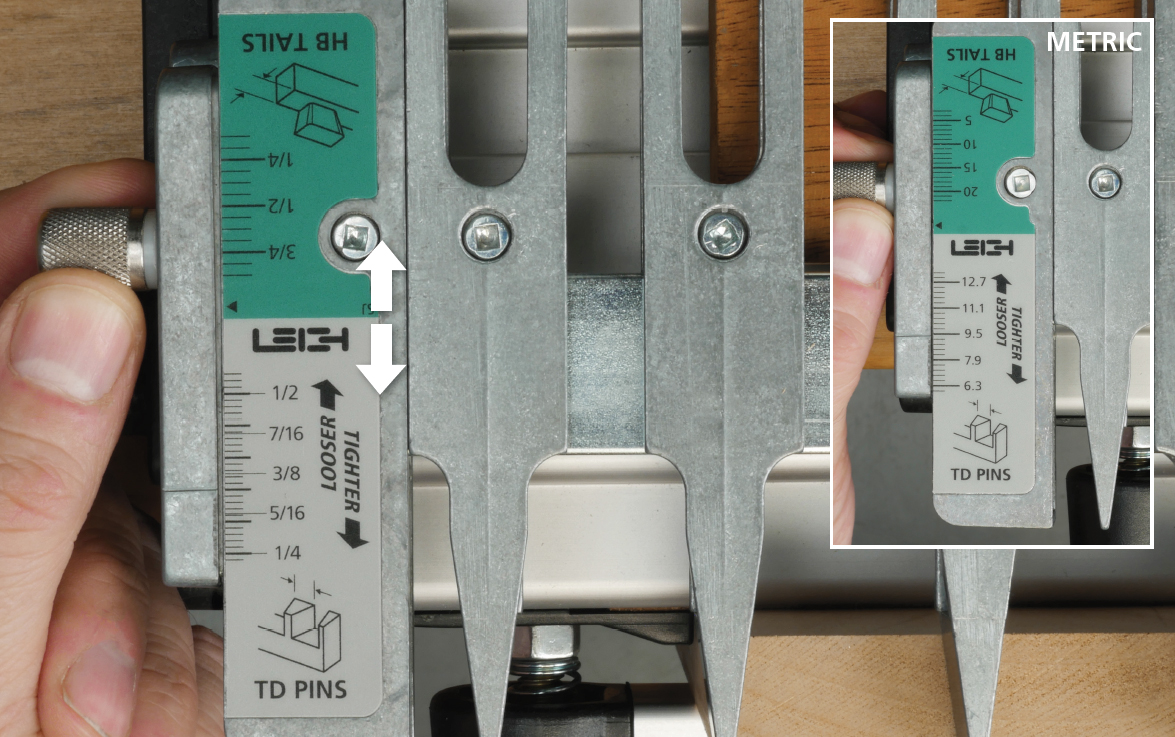 Through Dovetails: Move the finger assembly toward you, or away from you, for a tighter or looser joint fit.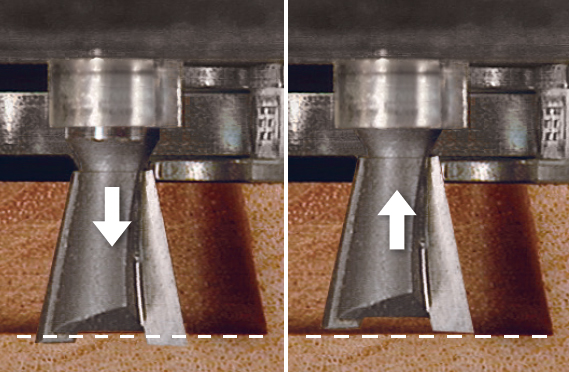 Half-Blind Dovetails: Adjust the depth of cut by lowering or by raising the bit in the router, for a tighter or looser fit.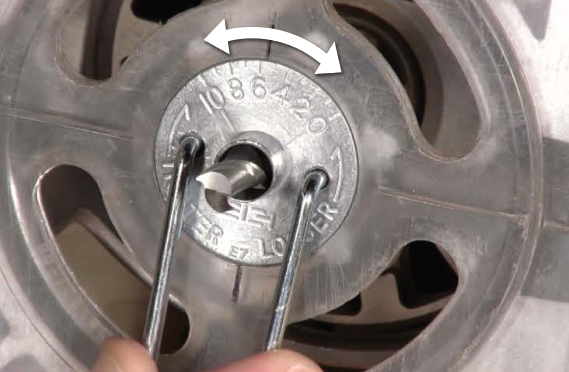 Box / finger joints: Rotate the elliptical e7 guide bushing fitted to the router base, either clockwise or counterclockwise, for a tighter or looser fit.
The Super Jig's aluminum body is extremely strong, yet light for portability. The end housings are made of glass reinforced nylon and screw to a mounting board or workbench to secure the jig. The weight and size of the jig, along with compact accessories like the VRS Vacuum & Router Support and joinery templates, make it easy to store when not in use.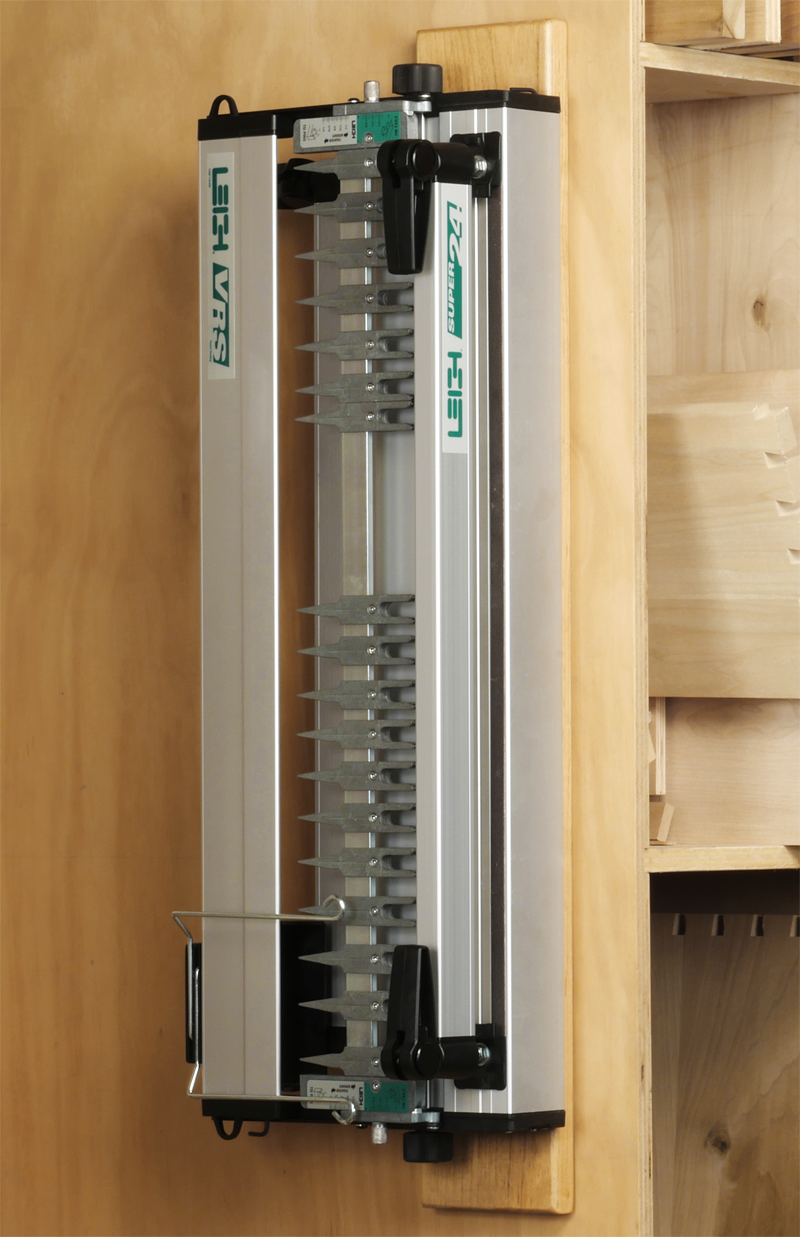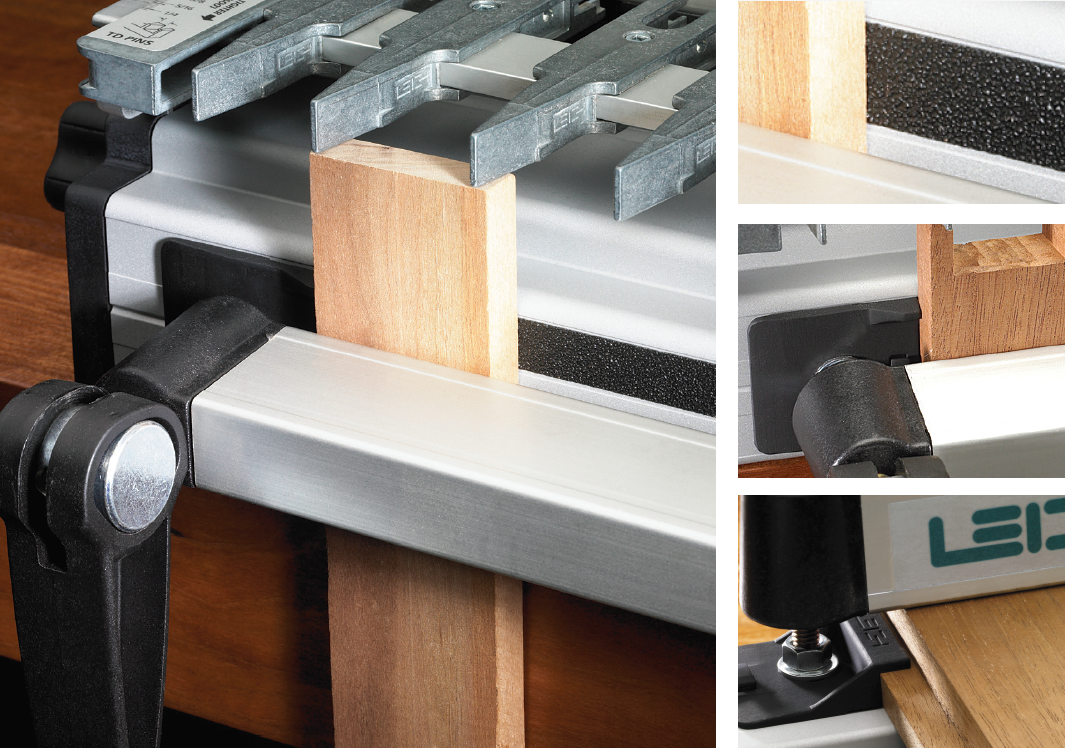 Boards are held securely against the non-slip 3M textured clamping surface by tough cam-action speed clamps, easily clamped with one hand. Clamp bars are made from aircraft quality aluminum. Rear and front side stops are made with tough glass filled nylon, for accurate board positioning. The rear side stop is undercut for rabbeted half-blind drawer fronts.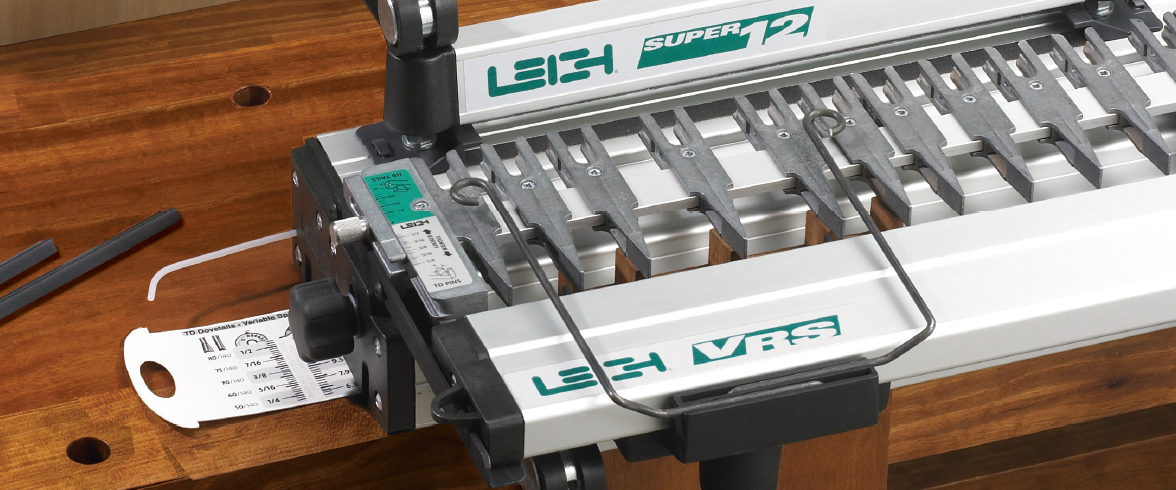 In addition to a thorough User Guide and Video, an instructional pullout slides out of the base of the jig for quick reference, making it easy to get started after time away from routing.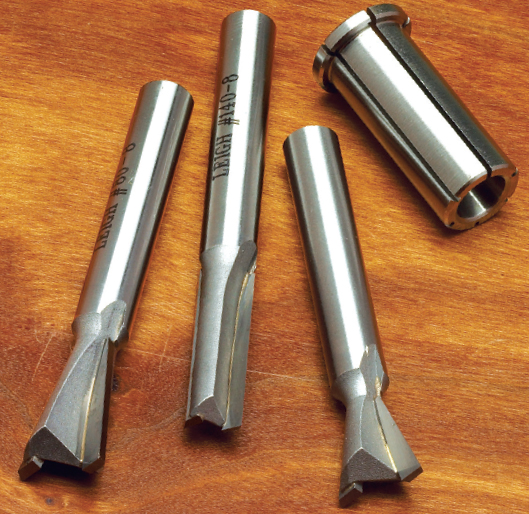 A Leigh brand 1/2" 8° dovetail bit, 1/2" 14° dovetail bit and 5/16" straight bit are included with all Super Jigs. Leigh Brand carbide-tipped router bits are among the best you can buy. They are made with high quality C2 and C3 micro grain carbide for long bit life. Each bit is honed to a fine edge with 600 grit diamond wheels for smooth, efficient routing. All shanks are 1-3/4" long to handle the thickness of the finger assembly or accessory template. Leigh router bits are manufactured to ISO 9002 standards..

Why an 8mm shank?
Leigh jigs use 8mm shank bits because they have 60% more mass than traditional 1/4" bits, resulting in superior strength and stiffness. The added stiffness increases the stability of the bit, allowing smoother cuts, faster feed rates and safer operation.

A 1/2" to 8mm collet reducer, shown above left, is included with all Super Jigs.
Technical Specifications
CAPACITIES
Through Dovetails
MIN
MAX

A

Tail Board Thickness
1/8" [3mm]
1" [25.4mm]*

B

Pin Board Thickness
1/8" [3mm]
13/16" [20.6mm]

C

Board Width
7/8" [22mm]
24" [610mm] (S24)
18" [457mm] (S18)
12" [305mm] (S12)

D

Pin Centers
7/8" [22mm]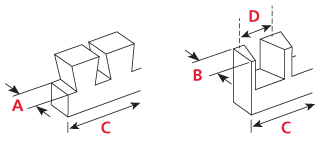 Half-Blind Dovetails
MIN
MAX

A

Tail Board Thickness
1/4" [6mm]
1" [25mm]

B

Pin Board Thickness
7/16" [11mm]
1" [25mm]

C

Board Width
7/8" [22mm]
24" [610mm] (S24)
18" [457mm] (S18)
12" [305mm] (S12)

D

Pin Centers
7/8" [22mm]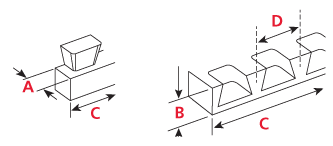 Single Pass Half-Blind Dovetails
MIN
MAX

A

Tail Board Thickness
1/4" [6mm]
1" [25mm]

B

Pin Board Thickness
9/32" [7mm]
1" [25mm]

C

Board Width
7/8" [22mm]
14" [356mm] (S24)
11-3/8" [289mm] (S18)
8-3/4" [222mm] (S12)

D

Pin Centers
7/8" [22mm]
7/8" [22mm]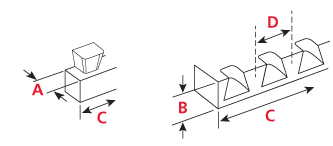 Sliding Dovetails
MIN
MAX

A

Tail Board Thickness
1/4" [6mm]
1" [25mm]

B

Socket Board Thickness
9/32" [7mm]
1" [25mm]

C

Board Width
2-3/16" [55mm]
24" [610mm]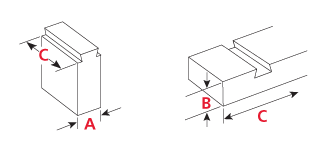 Box Joints (Finger Joints)
MIN
MAX

A

Pin Board Thickness
1/8" [3mm]
1" [25mm]

B

Socket Board Thickness
1/8" [3mm]
1" [25mm]

C

Board Width
29/32" [23mm]
21-5/16" [541mm] (S24)
17-13/32" [442mm] (S18)
11-3/8" [289mm] (S12)

D

Pin and Socket Sizes
5/16" (8mm)
5/8" (15.9mm)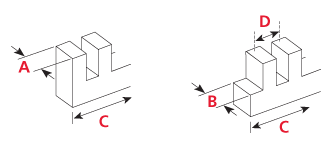 JIG SIZE
| | | |
| --- | --- | --- |
| | SUPER12 | CARTON |
| Length: | 21" (534mm) | 25-1/2" (648mm) |
| Height: | 9" (230mm) | 8-1/8" (210mm) |
| Depth: | 11" (279mm) | 8-3/4" (223mm) |
| Weight: | 11 lbs. (5 kg) | 14 lbs. (7 kg) |
| | | |
| --- | --- | --- |
| | SUPER18 | CARTON |
| Length: | 27" (686mm) | 31-3/8" (797mm) |
| Height: | 9" (230mm) | 8-1/8" (210mm) |
| Depth: | 11" (279mm) | 8-3/4" (223mm) |
| Weight: | 12.6 lbs. (5.7 kg) | 17 lbs. (8 kg) |
| | | |
| --- | --- | --- |
| | SUPER24 | CARTON |
| Length: | 33" (839mm) | 37-1/4" (947mm) |
| Height: | 9" (229mm) | 8-1/8" (210mm) |
| Depth: | 11" (279mm) | 8-3/4" (223mm) |
| Weight: | 14.25 lbs. (7 kg) | 20 lbs. (9 kg) |
STANDARD JOINERY
Variably Spaced Through Dovetails
Variably Spaced Half-Blind Dovetails
Single Pass (fixed spaced) Half-Blind Dovetails
Sliding Dovetails
Rabbeted Half-Blind Dovetails
Finger (Box) Joints, 5/16" and 5/8"
Inlaid Through Dovetails
End-on-End Dovetails
Asymmetrical Joints (Through and Half-Blind)
Simple Angle Joints
Needle Pins
With Optional Templates:
Finger (Box) Joints, 10 sizes
Isoloc Joints, 4 patterns
IN THE BOX
Each Super Jig includes:
Jig Base, Support Brackets, Side Stops and Knobs
Jig Mounting Hardware
Guide Finger Assembly with Inch or Metric Scales:
Super12: 13 Guide Fingers
Super18: 16 Guide Fingers
Super24: 19 Guide Fingers
Square Drive Screwdriver
Cam-Action Speed Clamps and Clamping Bars
Template Guide Bushing (e7-Bush), and Pin Wrench
Router Bits: 1/2", 8º and 14º Dovetail, 5/16" Straight
Collet Reducer for router, 1/2" to 8mm
Nylon Stop Rod (for Single Pass Half-Blind Dovetails)
Bridge Piece Material (for Half-Blind Dovetails)
Sliding Dovetail Fence (for Sliding Dovetails)
Spacer (for Single Pass Dovetails)
Spacer (for Finger/Box joints)
Quick Reference Instruction strip (pullout from jig)
Fully Illustrated User Guide (English only)
Instructional Videos are available online at Support/Instructional Videos and User Guides page Warranty/Registration Card
OPTIONAL ACCESSORIES
Vacuum & Router Support, VRS
Finger (Box) Joint Template, F18 and F24
Isoloc Joint Templates, I18B, I24A, I24B
Guide Bushings, 2 additional
Guide Bushing Adaptor, if required
Router Bits for increased versatility
Through Dovetail Bits, 4 additional
Half-Blind Dovetail Bits, 3 additional

JIG COMPARISON
Leigh Dovetail Jig Comparison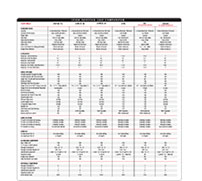 ---