Leigh Dovetail & Box Joint Jig DVD Videos
IMPORTANT! An instructional DVD is included with every Super Jig and the B975. Order only if you require a replacement or if you have an earlier model D-series jig.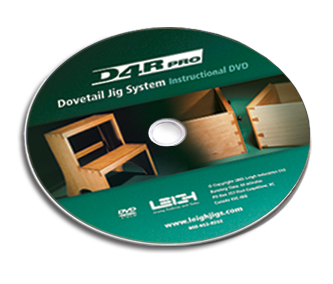 For those of you who prefer to see how it's done rather than read about it, these how-to videos give you step-by-step instructions for set-up and use of all Leigh Dovetail Jigs. A great supplement to Leigh User Guides!
Find Leigh Instructional Videos free to stream in the support section of our site. Click here.
| | | | |
| --- | --- | --- | --- |
| D4R Pro Dovetail Jig Instructional DVD | Item no. 26 | $12.00 | $12.00 |
| D1600 Dovetail Jig Instructional DVD | Item no. 7305 | $12.00 | $12.00 |
| RTJ400 Router Table Dovetail Jig Instructional DVD | Item no. 2596 | $12.00 | $12.00 |
| Super Jigs Instructional DVD | Item no. 8250 | $12.00 | $12.00 |
Instructional VHS Video

| | | | |
| --- | --- | --- | --- |
| D4 Instructional Video (VHS Format) | Item no. 22 | $20.00 | $20.00 |