For the D1600 Dovetail Jig
It's no accident the dovetail joint has endured through centuries of hand cut joinery as the sole design for mechanically interlocked corner joints. After all, if your saw and chisel are made to cut straight lines, how can you cut dovetails any other way? It took the introduction of hand-held routers and the ingenuity of Leigh Industries to develop a genuinely new hybrid dovetail design, the Isoloc* joint.

The revolutionary Isoloc joint represents the first entirely practical alternative to the traditional half-blind dovetail. With a Leigh Dovetail jig and an Isoloc template, even novice woodworkers can produce extraordinary joinery that is strong, functional and distinctively attractive.

By replacing the Dovetail finger assembly with one of the three Isoloc templates, you are ready to produce some very creative joinery. Each template features two joint patterns, one design carefully CNC machined on each side of the template. A single 5/16" or 8mm straight bit, preferably an upcut spiral, does all the routing.

Isoloc templates are designed primarily for half-blind joints though several of the patterns can be set up to produce through and end-on-end joints. Inlaid and Shadow Inlaid joints give an even more intriguing look to the beautiful organic shapes of Isoloc joints.
VGS Accuracy
Joint fit is easily and precisely controlled using Leigh's patented Variable Template Guidebush System (VGS), a unique adjustable 3-piece template guidebush.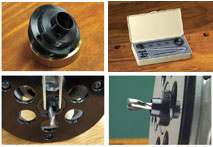 Rotating the barrel of the VGS, up or down, increases or decreases its active diameter. A 1/8 turn of the barrel adjusts joint fit by a mere one thousandth of inch!
The VGS is standard equipment with every Isoloc template. It mounts directly to many router bases. Some routers may require a Leigh template guidebush adaptor.
The name Isoloc was coined from two words: Iso from the Greek word isos, meaning equal, and loc, an abbreviation of lock.
*Patented in U.S.A., Canada and Europe
Links :
How to Rout Isoloc Joints
How to Select The Right Bits for Isoloc Joints.
Gallery
Watch Video
---
Features :
Precision CNC machined aluminum alloy template
Scales with inch and metric measurement
Fully adjustable joint fit with the VGS Variable Guidebush System
Standard Equipment :
Leigh 5-piece VGS Variable Template Guidebush System (with nominal 1/2" OD guide)
Fully illustrated user guide
Please Note:
Bits Not Included
All Isoloc joints require a 5/16" straight bit. Inlaid Isoloc joints require two additional straight bits, 1/4" and 3/8". Leigh recommends spiral upcut bits for Isoloc joints. Click here for Isoloc bit selection.
I1600A
Isoloc Joint Template model I1600A 16", Key and Mirror Key ***For the D1600 Dovetail Jig***

I1600B
Isoloc Joint Template model I1600B 16", Clover and Bears Ears ***For the D1600 Dovetail Jig***

The I1600B is no longer in production or available directly from Leigh. Select authorized dealers may have stock. Please contact Customer Service at 800-663-8932


I1600C
Isoloc Joint Template model I1600C 16", Ellipse and Wave ***For the D1600 Dovetail Jig***

I16003
Isoloc Joint Template combo pak containing I1600A, I1600B and I1600C templates ***For the D1600 Dovetail Jig***

The I16003 is no longer in production or available directly from Leigh. Select authorized dealers may have stock. Please contact Customer Service at 800-663-8932