CUSTOMER SERVICE AND TECHNICAL SUPPORT
800-663-8932 (Toll-free Canada/USA)
604-464-2700 (Tel)
604 464-7404 (Fax)

---
EMAIL
Customer Service
leigh@leightools.com
Technical Support (For jig owners)
help@leightools.com
---
HOURS
Monday - Friday 8:00AM - 4:30PM
Pacific Standard Time
---
CLOSED
Canadian Holidays
New Year's - January 1
Family Day - February 15
Good Friday - April 2
Victoria Day - May 24
Canada Day - July 1
BC Day - August 2
Labour Day - September 6
Thanksgiving - October 11
Remembrance Day - November 11
Christmas Holidays - December 25-28
---
ADDRESS
Mailing Address
Leigh Industries Ltd.
P.O. Box 357
1615 Industrial Ave.
Port Coquitlam, BC Canada
V3C 4K6
Location
Leigh Industries Ltd.
1615 Industrial Avenue
Port Coquitlam, BC Canada
V3C 6M9
---
HOW TO ORDER PARTS
Most parts are not sold online. Please order parts by phone or email only, following the steps below.
IMPORTANT
Before contacting Leigh:
• Go to the parts section of your user guide. It includes a part number list and an exploded illustration or photos of parts. Find the part number(s).
• Find the serial number of your jig, usually on the back.
Then call our customer service line at 800-663-8932 or email leigh@leighjigs.com. If you are outside North America, contact your local or national Leigh distributor. Contact details can be found on our Where to Buy page.
---
Satisfaction Guarantee
Products purchased directly from Leigh carry a 90-day Customer Satisfaction Guarantee. Products purchased from an authorized Leigh dealer may also carry a Customer Satisfaction Guarantee; see your Leigh dealer for details.
Click here for Leigh's 5 year warranty.
The Jig That Started It All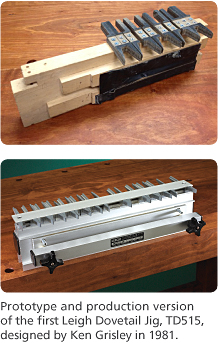 "Necessity is the mother of invention" or as our founder and CEO, Ken Grisley, fondly says, "Laziness is the mother of invention". In 1980, frustrated with hand cutting through dovetails, and with no reasonable alternatives, Ken set out to develop a method that would help him rout dovetail joints quickly, easily and accurately. The result was the first ever, infinitely adjustable through dovetail router jig, the Leigh TD515. From humble beginnings in a small garage workshop in a northern BC logging town, Ken, and his wife Joan, founded Leigh Industries in 1981, to manufacture and market the new jig.
The 12" TD515 was immediately successful in Canada and the United States. Within a year, it became apparent that woodworkers wanted greater jig capacity and in response, Leigh produced a 24" version, the TD514L, the following year. What followed was a series of innovative products that put professional joinery within easy reach of the weekend hobbyist.
Using the same infinitely adjustable principle, Ken designed yet another jig in 1984, the D1258, capable of producing through and half-blind dovetails using the same finger assembly. Additionally, it could rout sliding dovetails, angles, compound angles and inlaid dovetails. The D1258 was available in 12" and 24" widths with an increased board thickness capacity of 1¼".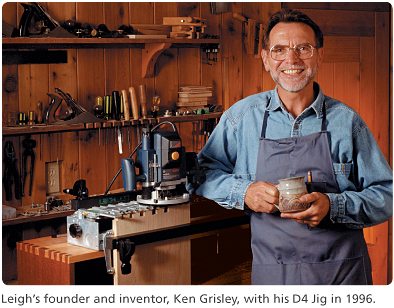 Innovation did not stop there, and over the last 30 years, Leigh Industries has continuously improved and innovated collecting many patents and accolades along the way.
From our humble beginnings, Leigh now operates out of our state of the art manufacturing facility in greater Vancouver. The needs of the hobbyist and small custom shop are ever changing. Our research and development efforts are dedicated to bringing new innovative tools to the market to satisfy those needs. Our tradition of Innovation & Excellence will continue to guide us into the future.