Strong, Simple Box Joints
The B975 box joint jig can make boxes, drawers, step stools and more
The B975 features two sizes of box joints on boards up to 13/16" thick. With a width capacity of 1-1/2" to 17-13/16", it's ideal for a variety of projects, large and small.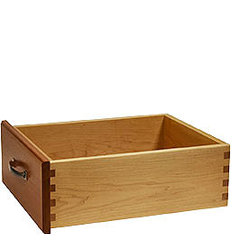 Drawer with 3/4" joints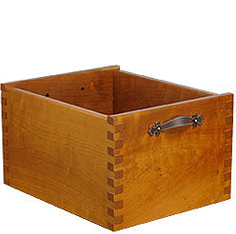 Raised 3/4" joints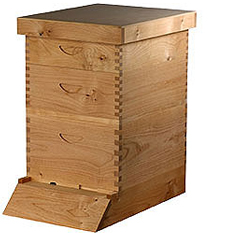 Beehive supers with 1/2" and 3/4" joints
A step-over cam and a simple procedure makes it possible to rout wider boards for larger projects like step stools and tool boxes.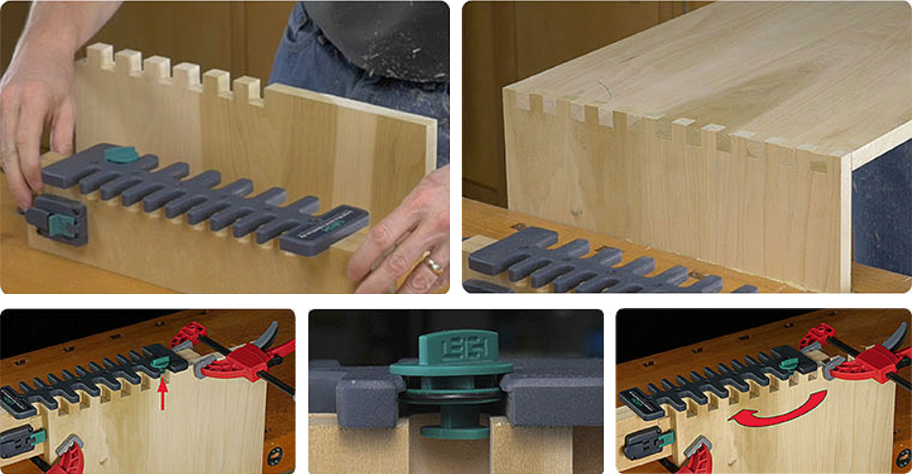 The B975 design allows the template to be used upside down on the router table, for boards up to 9-11/16" wide.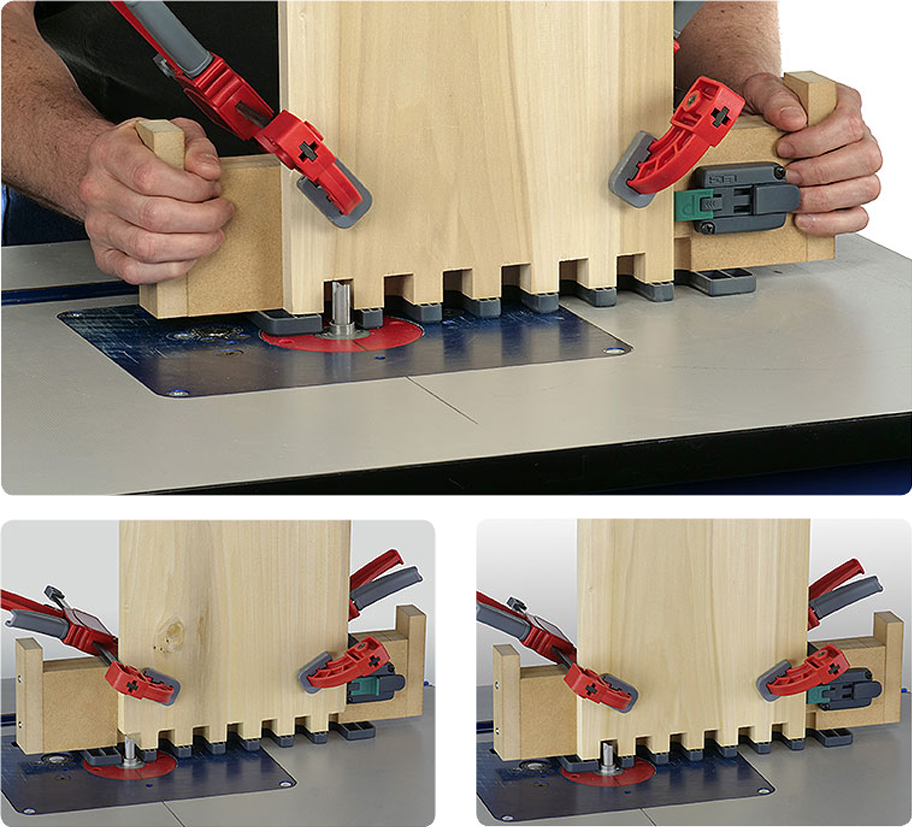 Precision Injection Molded Template
The B975 Jig Template is made of glass-reinforced nylon, for a full lifetime of use.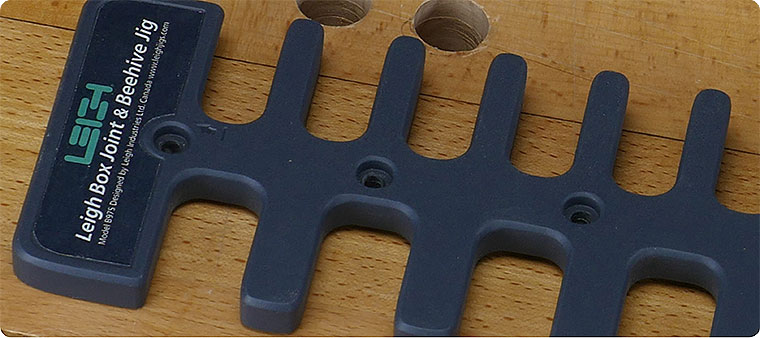 The template and side stops attach to a simple user made beam of MDF or common 2x4.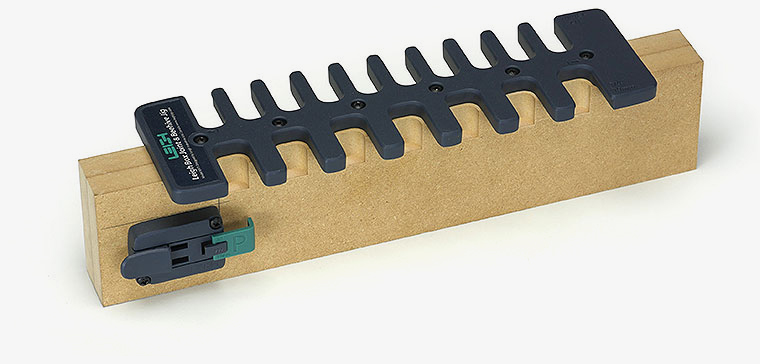 The unique adjustable side stop has two functions: The socket board is positioned against the Socket Board Stop A, and the Pin Board Stop B is flipped to the right, to provide the correct offset for the pin board.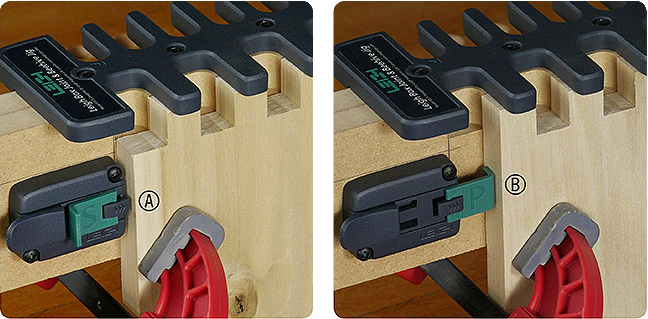 The B975 includes a Leigh brand straight bit, item 160 with a 1/2" cutting diameter and 1/2" shank. This carbide-tipped router bit is among the best you can buy, made with C2 or C3 micro-grain carbide. Each bit is honed with 600 grit diamond wheels for smooth, efficient routing. The shank is 1-3/4" long to handle the thickness of the template.

Patented Joint Fit Adjustment
Joinery is all about the fit. The included Leigh eBush guide bushing makes joint fit easy.
Leigh e-bushings are covered by patents USA:US8256475 Canada:CA2611232 UK:GB2443974

eBush Design
The barrel of the e10 is elliptical (A), unlike plain circular guide bushings (B). When rotated, the effective diameter of the barrel changes, allowing fit adjustments as small as .001"[0.025mm].

eBush Adjustment
All routing starts with the e10 in the 5 position (A). Turning the e10 toward the "10" position (B) results in a tighter fit. Turning it toward the "0" position (C) results in a looser fit.

Pin and socket boards are mounted in a vice or portable workbench. Quick grip clamps are used to clamp the jig to the board. Clamps not included.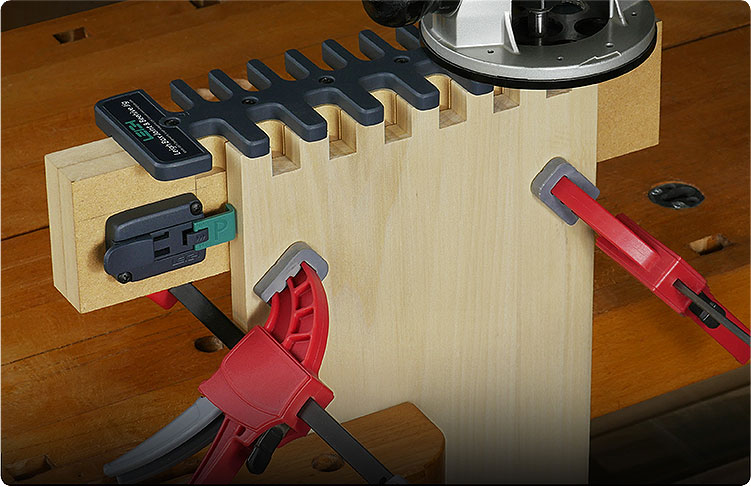 CAPACITIES
Box Joints
MIN
MAX

A

Pin Board Thickness
1/8" [3mm]
13/16" [20.64mm]

B

Socket Board Thickness
1/8" [3mm]
13/16" [20.64mm]

C

Board Width
1-1/2"
17-13/16" [432mm]

D

Pin Centers
1/2" comb
3/4" comb
FIXED WIDTH
1" [26mm]
1-1/2" [39mm]
JIG SIZE AND WEIGHT
Length: 12.6" [320mm]
Height: 0.49" [12.5mm]
Depth: 3.76" [95.5mm]
Weight: 0.94 lb [430 grams]
Package (Carton) size: 1.7 lbs. (.77 kg) 13-1/2" x 6-1/2" x 2-1/2" (342 x 165 x 64 mm)
STANDARD JOINERY
Box joints in 1/2" and 3/4" joint sizes
IN THE BOX
Jig Template, glass-reinforced nylon
Side Stops, adjustable for pin and socket board positioning
Step-over Cams, 1/2" and 3/4", accurate indexing when routing wider boards
Straight Bit 160, ½" x 1-1/4", 1/2" shank
Guide Bushing, e10 Elliptical eBush for joint fit adjustment
Pin Wrench, for eBush adjustment
10 Screws, No.8 Phillips Pan Head, for beam assembly
User Guide, fully Illustrated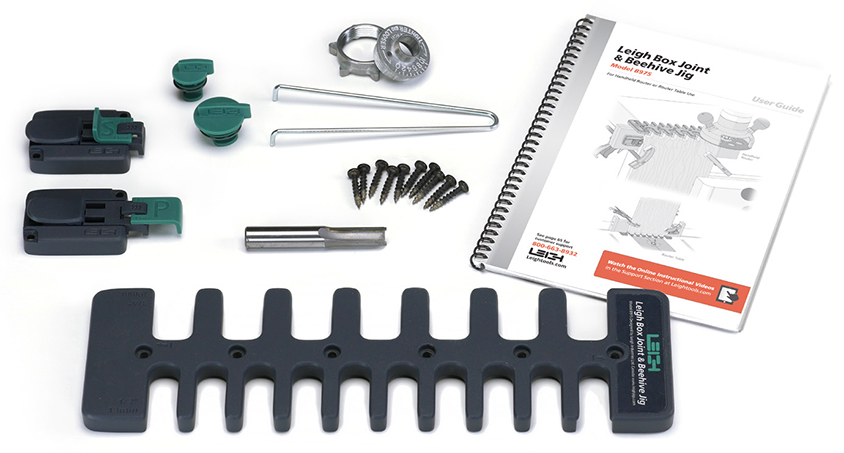 OPTIONAL ACCESSORIES
1/2" HSS spiral upcut router bit 180
1/2" solid carbide spiral upcut router bit 180C